Resol Mixture Dosing
Resole Mixture Dosing System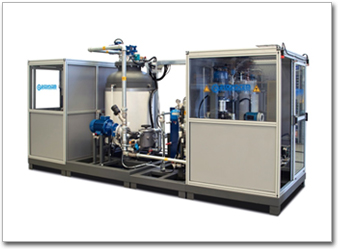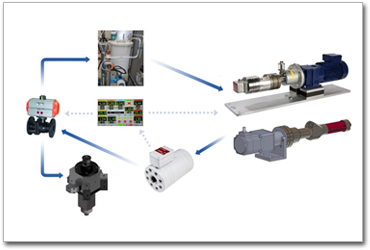 The Metering Section is mainly equipped with:
No 1 low pressure pump group by a Beinlich or Kracht Stainless Gear pump type working at low rpm;
Pump max output 40 Kg/min, coupled to the three-phase electric motor inverter controlled for speed variation, and equipped with electronic pressure gauge.
Connection rigid/flexible piping between the low pressure metering group and static mixer;
3 way valve with pneumatic actuator for recycling cycle
2 way Manual valve complete of injector and matic-valve for component calibration.
Endress and Hauser mass flow meter
The Working Tank Section is equipped with 1 off vertical 500l capacity each 410 carbon steel-made tanks with support feet.
The tanks have PED testing at 6 bar according to the Standards in force. They are complete with visual level and externally insulated by Trocellen CL-1 insulating aluminium sheet.
  Super Max level, in case of non-functioning of the capacitance level probe, or in case of anomalous work of the electro-pneumatic loading valve.
Low rev. number stirrer with double gasket with liquid barrier, blades having a wide working surface to ensure homogeneity while spreading the liquid inside the tank at a constant temperature;
Electric Control Panel System
One electrical panel manage all the dosing metering units of the metering unit has IP55 protection and comprises: Power switch with fuses-protection, 3-phase; Frequency converters controlling the flow-rates in auto-adjustment according to the chosen program; PLC to manage the cycles, connected to Touch-screen panel, with the possibility of visualising all the working parameters, flow-rates, pressures, temperatures, productions statistics and alarms. Electrical connections of the control panel to the different components of the metering unit; Automatic thermoregulation of components, with setting of working values and relevant alarms; Function for automatic engagement of the metering pumps; Automatic safety control on components pressures; Setting and visualisation of 30 working programs through digital display with possibility of giving single working programs (different flow-rates and ratios); Visualisation of any possible alarms that may occur during the working phase on the operator board.
Pentane Safety Control System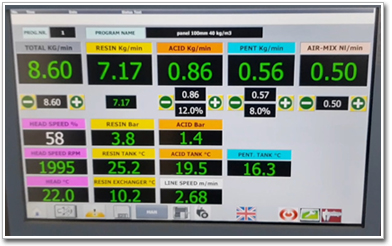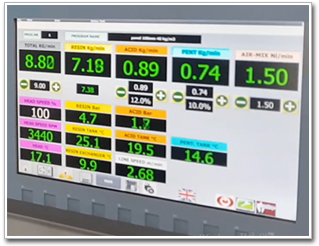 The panel handles the ventilation system of the booth containing the pentane metering unit.
The panel also accommodates the cards handling the gas sensors taking the presence of pentane, sited as follows:
1 in the pentane metering booth;
2 in the foaming area;
2 at the press inlet port;
1 in the storage pentane drums area.
 The control cards handle two alarm interventions:
At the intervention of the first level, there will be an acoustic and visual signal, and start of the second fan to restore the safety conditions inside the booth where the alarm happened;
At the intervention of the second level, there will be the switching off the electrical panels through release coil.